State of the Site Address 2020
Asteroid G

Two Years In
Another year has come and gone, marking (just a little past) the two year anniversary of this incarnation of Asteroid G. I'm rather proud of how this site is progressing -- considering that previous versions of the site fizzled out within months of launching, or couldn't maintain anything close to a consistent schedule, or, more often, both, it's very nice to see Asteroid G have consistent, regular updates for just about two years straight (barring the occasional week off for the writers). That's a feat in and of itself and speaks to the resilience this site has this time around.
As with our one year anniversary, I want to take a moment to look back and what Asteroid G has accomplished and look towards what we will try to do in the coming year.
Articles and Site Content
Last year the site saw more articles go into its archive than had been posted for all previous versions of the site combined. This year we have another great milestone: within the next week we'll hit over 1,000 articles total. Considering we're just a small site with a tiny, but dedicated, staff, that's a huge amount of content we've managed to post here, most of it during the current tenure of Asteroid G. That's something to really be proud of.
A number of articles were part of the features we've been running -- Arrowverse Mondays (formerly Arrowverse Thursdays), Slasher Tuesdays, MST3K Thursdays, Superhero Fridays, along with monthly features Fantasy Franchise February, Action Adventure April, Sci-Fi Saga September, and the Five Days of Die Hard. Some features have evolved -- Monster Mondays moved to Thursdays and then focused on the content we're producing for sister site, Castlevania: The Inverted Dungeon -- while others have largely been retired (we want to get back to Mystery Science Theater 3000First aired on the independent TV network KTMA, Mystery Science Theater 3000 grew in popularity when it moved to Comedy Central. Spoofing bad movies, the gang on the show watch the flicks and make jokes about them, entertaining its audience with the same kind of shtick many movies watchers provided on their own (just usually not as funny as the MST3K guys could provide). It became an indelible part of the entertainment landscape from there, and lives on today on Netflix. but we burned ourselves out on the series). We're sure other features will come up and get featured over time, we'll just have to see what weird idea strikes us next.
For the coming year we're going to focus on continuing to regularly post content while also pushing for even better editorial standards -- spell checking with more regularity is something we really need to do, and I'm sure there's probably a typo even in this article, sadly. For a site to grow it has to constantly improve, and that's what we intend to do.
Podcasts and Videos
Last year we launched our podcast, (Not So) Live from Asteroid G. One year later the show is already in its third season with sixty episodes (plus twelve outtake reels) in the can already. We've been working on broadening the format of the show, letting it evolve to cover more ideas and more topics, and for the current season we're going to continue to let the show find its path and bring in new ideas to make it better and better.
One goal we had from last year was to create podcast videos so we could feature the podcast on YouTube. We have managed to do that (we have regular postings of the podcasts over on my YouTube channel), but the original goal was to do fun, heavily produced videos to give the podcasts fun animation. Unfortunately the amount of time it took to produce those was more than I was initially expecting and considering all the other projects I have going on beyond this site, that was something we had to ditch (at least for the time being). We may eventually revisit the idea, but for now the podcast videos are simple, stripped down affairs but they do at least help us reach a larger audience.
Along with the podcasts, though, we have also been posting other videos to the YouTube channel. I've been streaming on Twitch and most of my vods have made the move to YouTube to help flesh out the archive and bring even more content into the fold. Soon enough we'll build a proper videos page here so you can work your way through all those videos from the site here, making this into an even better one-stop-shop for content.
Site Improvements
Last year we discussed adding a database-drive engine to this site to make uploading and managing content even easier. That hasn't happened yet and, again, that's because I only have so much time in the day, sadly. Between this site, my Castlevania site, my webcomic CVRPG, and the Final Fantasy Randomizer community (of which I am an administrator as well a a contributor and designer), I tend to run out of time to focus on much else new. The database engine for this site requires me to sit down and work with another coder and I just haven't had the ability (or brain power) to focus on that yet.
One thing I will likely implement this year, if nothing else, is a new site design to improve the overall look and feel of the site (see below). I like the overall look of this design I just haven't implemented it yet because I'm letting it brew in my head, to see if there's anything else I want to do with it before I put fingers to keyboard and actually start coding it. Expect to see this design, in some form, later this year.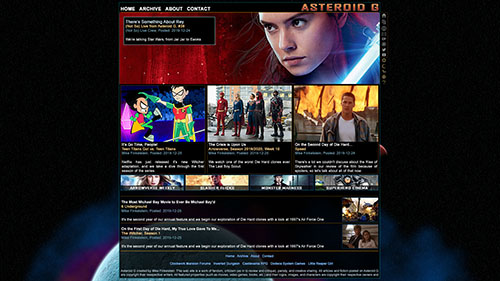 One other small change: after a year of calling this site "Asteroid G Returns", since the site had come back after a long hiatus, we ditched the "Returns" part of the branding. We'd returned, and been around again for a while. Saying so didn't feel necessary any longer.
Contribute and Share
This year we had two new contributors join the fold: Tyler Flickinger and Queen B, with the latter being a regular enough guest on the site that she became part of the (Not So) Live staff. It's easy to become a contributor to the site -- just submit your articles and we'll get your content posted. If you've ever wanted a place to share your thoughts on anything but didn't want to put in the effort of building your own site, now is your chance. We welcome anyone that wants to join Asteroid G and contribute to the growing collection of articles, podcasts, and videos on the site.
For everyone that has written for the site, spoken in the casts, or read, listened to, or watched our content, I want to say Thank You. Here's to another great year at Asteroid G.